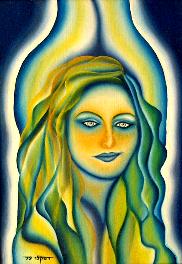 Q: Can you please send me a picture of the aliens, a drawing, or a description, especially how do there faces look like?
A: I have no picture of the extra-dimensional aliens. I tried many times to take their picture but the camera cannot catch them and the alien council forbids them to transform to our dimension.
The aliens, as several other psychics and I see them, look different from each other. They belong to different species, working together in the same medical team. They all have some resemble to humanoid figure (a body with two legs, two hands a one head), but the size can vary from 0.5 meter to 4 meter. The body may be hairless, with spots, or very hairy like a dog or a bear. Some have a reptile appearance.
For example:
Gideon, a physician in Haya team looks quite human, Nordic with blond hair and blue eyes.
Shaya at Uri medical team is 0.5 meter high. He uses to sit on Uri shoulder and communicate with him.
Professor Bach, the head physician at Uri medical team is a humanoid reptile.
Maya is a physician and psychologist at Haya medical team. She is 1.8 meter high with white shell like face and fish like eyes.
Nathan and Shmaya the sanitary at Haya medical team look like the ET from Spilberg famous film.
X3 or Dov the head physician at Haya look like a tall human although he claims his internal organs are different.
From time to time there are visitors or other medical teams that come for short periods. They have different look. For example a 0.7-meter pink skin humanoids. Or 1 meter tall blue skin humanoid with huge green eyes.
We have seen also unusual phenomena as energy aliens or fluidic creatures that took humanoid form and split into separate individuals.
The aliens claim the universe is full with a diversity of life forms. They have a huge space ship that is as a size of a big city. The ship is entirely dedicated to search
of life forms.
The humanoid figure is quite common but there are many exceptions. Totally different life forms exist. These life forms are less interested in humans. The alien council does not encourage them to visit Earth.