The Alien medical team exist in another realm and the only practical way to communicate with them is by telepathy or what we also call channeling.
All the healers that collaborate with the Alien medical team have some degree of telepathic abilities. This communication is used during treatment sessions to transfer the Aliens medical team diagnose and messages for the patients.
Some of the healers have higher ability of telepathy - what we call "trans- mediums" that can transfer Aliens messages in a very direct transparent way. The Alien seems to take control of the body of the medium and use his voice to deliver its message and even answer questions in an interactive conversation way.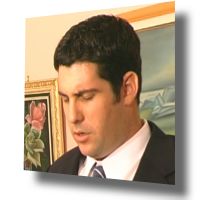 Miri Est was the first to develop trans medium level and she channeled a number of sessions in Hebrew.
Hagai Kats was the second healer to develop such high ability and I asked him to channel also in English. His personal Level of English is not so good but it seems that the Aliens that channel through him manage anyway and the level of English improves with time.
Hagai Kats close his eyes and the personality of the Alien take over and starts to speak. Hagai surprised us by his ability to transfer Aliens language. This is a extremely difficult and requires a very high level of channeling ability.
The big surprise was Diana Man. She was born and lived in the USA and is an English teacher so her English is quite perfect. We new she channels but we did not knew how good she is as a trans medium. I asked her to channel and she just looked in the air with open eyes and started to speak a fluent English as she is reading from an invisible text board hanging in the thin air. I looked at the area she was looking and saw a faint image of an Alien that was probably the source of the information Diana was channeling.
A few days before release of final version of the video clips CD (for the first book: X3, Healing Entities and Alien) Hagai Katz received a message from the Aliens. A high rank delegation from the 54 Aliens planets organization council is coming and they want me to perform a trans session.
I channel for many years but never experience such level of channeling they asked for. Well, I accepted and we all met at my apartment, pointed a camera at me and the Aliens really took over.
I had a sensation that I respond to questions by my self. The only difference was that I seem to have very interesting answers with information I never knew before. The English was good and fluent and a heavy personality was surfacing through my spoken words. I was there all the time and fully aware of what is going on. I heard the questions and the answers pop up in my mind very easily even before the questions ended.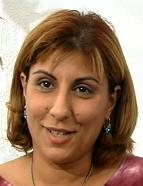 At a later stage Or Hasid one of the new Healers that work with Aliens started to channel in deep trans mode. She live in Kibbutz Hazor with her husband Ehud Roned also a healer.