Not given to flights of fantasy, author Adrian Dvir is a scientifically-minded computer engineer who struggled to understand his extraordinary experiences. The reader follows Dvir throughout his investigative process from self-doubt, through chilling realization of contact, to the cooperative relationship of partners in healing.
Some reactions:
"…the book has much to offer the reader who is keen to look beyond the world of form and step bravely into uncharted waters"
Editorial Director, Pentland Press, London
"With 40% of Israelis and 70% of Americans believing in aliens according to recent polls, Dvir's book… is drawing the attention of believers and skeptics alike."
The Jerusalem Post
"Today, not only do I feel better but I am also personally committed to promoting Adrian's work. In my opinion, he has made the breakthrough of the century."
Jerusalem Post Magazine, client testimonial
"…Adrian attempts to make sense of the universe in which we live, and the universe which unfolds is beyond our wildest imagination, populated by a broad range of creatures existing in cultures much more developed than ours, who have come here in order to help us."
Israel Hotel Chain Magazine
"The zeal and enthusiasm which you have for your work oozes from every page and the reader will be inspired and stimulated by your genuine love of this subject…
"Not a book for the faint-hearted, it will force the reader to think more carefully about other life forms and the ways in which they can aid and guide humanity."
Editorial Director, Pentland Press, London
"I'd been reading for three days, not being able to concentrate on anything else. Although I had considered myself to be an open-minded person… the book… left me stunned. I felt that my life would never be the same again.
I didn't doubt a word in this extraordinary narrative, no matter how fantastic some information in it might seem…The sensations I felt in Adrian's special room were beyond anything I've ever experienced before. The extraterrestrial visitors claim that their ultimate goal is to help humanity and with all my heart I believe that this is really so - doesn't our beautiful and polluted planet really need help?
It strikes me how significant the information given in the book is for us humans. It's not fair to conceal it from millions of intelligent people. I admire Adrian's courage and determination to tell the unsuspecting world what's going on under our own noses.
The revelations that you, the lucky reader, will find in Adrian Dvir's book will be life-changing because the time is right to hear them, to perceive new reality, and eventually, to come to grips with it."
Ana Agranat, Ph.D.
Ashkelon College, Bar-Ilan University, Israel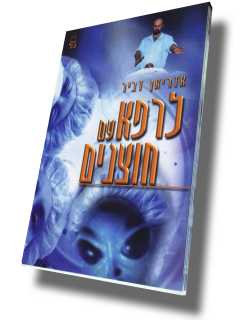 Cured by Aliens
This is Dvir's second book continuing his account of his work as a healer aided by aliens, whose aim is to study and benefit mankind. Thanks to Dvir's courageous openness in discussing his experiences, a growing number of people with similar interests and experiences have come forward. Dvir's second book documents his contacts with some of them and recounts the expanding number of alien-aided clinics.
Today, in Israel alone, there are over 50 such clinics currently seen as one of the most effective means of alternative medicine available.
First published in Hebrew by Gal Publishing Ltd., 2001, the book is soon to appear in English.
Adrian Dvir is currently working on his third book.